An exit device (also known as a panic bar, crash bar, panic device, or a push bar) is a form of lever tumbler lock for unlocking a door during emergency conditions. The mechanism consists of a spring-loaded metal bar fixed horizontally to the inside of an outward-opening door. When the lever is either pushed or depressed, it activates a mechanism which unlatches the door allowing occupants to leave quickly from the building. Building codes (or regulations) which require all public buildings have a minimum number of fire and emergency exits.
Exit Devises are fitted to these types of doors because they are proven to save lives in the event of an emergency. Exit devises contain an inside release bar. When depressed, the release bar (called crossbar, push pad, etc.) retracts the latch bolt, thus permitting the door to be opened. A dogging device allows the release bar to be locked down so that the latch bolt remains retracted and the door can be used as a "push-pin" door. They may or may not be key operated from the outside.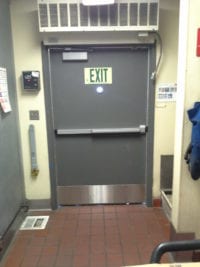 There are three situations in which exit devices should always be used. These include: 
High occupancy areas, where there is a concern for exiting in an emergency
Perimeter security, where there is a restricted, authorized entrance with provisions for exit under alarm conditions
Security systems, where there is a need for access control
The Different Types of Exit Devises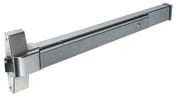 Rim Style Device
Rim-style exit devices are a great choice for small businesses in densely-packed areas (i.e. business parks, malls and strip malls.) They are cost efficient and comply with most building codes.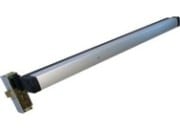 Mortise-style exit device
A Mortise-style exit device is an excellent choice for medium to large-size businesses and buildings. The mortise design adds extra security and are less prone to tampering.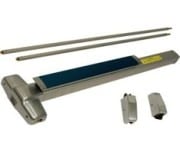 Surface/Concealed Exit Device
The Surface/Concealed exit device is the perfect choice for large businesses, especially where extra security as well as aesthetics are crucial.
Things to Consider when Choosing an Exit Devise
First, you must know whether or not a door is listed or labeled as wither "non-fire listed" doors in the emergency path of egress or fire doors, which are approved for use on "fire listed" doors in the emergency path of egress.
Next, you must understand the door stile width. A wide or medium stile is used when the vertical member on the latch or pivot side edges will accept narrow, medium, or wide stile devices. A narrow stile, on the other hand, is used when the vertical member on latch or pivot side edges requires use of narrow stile device.
Third, you must analyze traffic control and people flow, including traffic volume (based upon building type and occupancy) as well as the entrance and exit.
Fourth, the electronic interface must be considered. This includes security, or authorized entrance and fail safe exit, monitoring of the door, access control relative to both the ingress and egress, and the fire/smoke control system.
Lastly, you must account for accessibility. A barrier free environment adheres to the ADA and ANSI 117.1 in terms of levers .
Let Priority Doors help you with all of your door needs.
Your satisfaction is our #1 Priority!