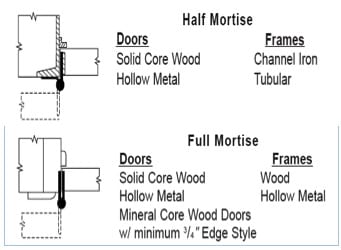 MORTISE HINGES
Half mortise hinges are hinges that have one leaf mounted to the visible front of the frame and the other leaf mounted in a hinge prep, or mortise, on the edge of the door. They are also called Butt Hinges since they are actually inserted, or mortised, into the frame of the door.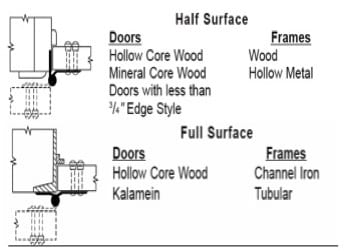 SURFACE HINGES
Half Surface Hinges are hinges that have one leaf mounted to the surface of the door and the other leaf mounted into a hinge prep on the jamb part of the door frame.
Full Surface Hinges have both leaves visible when the door is closed. One leaf is fastened to the surface of the frame and the other to the surface of the door.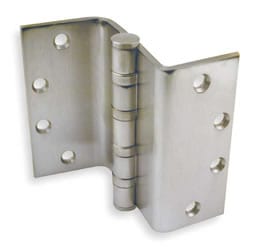 SWING CLEAR HINGES
Swing clear hinges are designed so that when the door is opened to 90 degrees, the door itself is completely out of the opening. For example, if you needed to move a cart through a door that was 35-1/2 inches wide through a 36 inch wide door, unless the door was hung on swing clear hinges, you would have to be able to open the door 180 degrees in order to get the cart through the opening.
Continuous Gear Hinges
are hinges that extend the full height of the door. They are widely used on aluminum storefront and hollow metal applications. They are a good alternative for high frequency of use applications where added durability is necessary.

Continuous Geared Hinges Advantages
Continuous hinges have distinct advantages over the use of several shorter hinges. Continuous hinges are:
Cut to match the full length of the door
Provide support along the whole length of the door.
Have uniform strength throughout the entire length of the door.
Can be made of almost any materialsteel, stainless steel, aluminum, and brass.
Have no exposed hardware
Can be installed on existing doors and frames easily and economically.
 Have longer life.  The continuous hinges are superior and longer lasting than tradition butt hinges.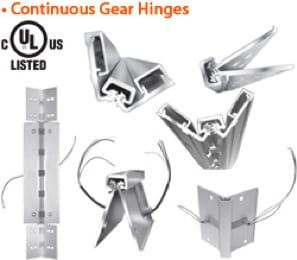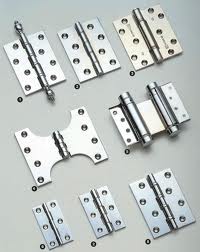 Spring Hinges
– Spring hinges are architectural hinges that are spring loaded so as to shut the door. They are available in full mortise, with or without radius corner, in most sizes in which other full mortise hinges are made, and are available in template and non-template versions. A full mortise spring hinge is shown at right. It is important to note that spring hinges are not a substitute for a door closer, since spring hinges slam the door.
Pivot Hinges
are used on very heavy doors in high traffic applications and on many aluminum storefront doors. Since the weight of the door rests on the bottom pivot, the door does not "hang" as it does with other types of hinges, therefore there is less risk that the door will sag over time.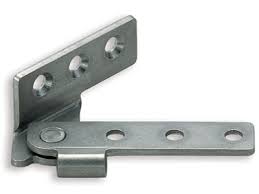 Commercial Door Hinge Finishes
Steel – Durable, has great strength but is highly corrosive. Rusting will result if the material is used in an uncontrolled environment, like places near the sea where the atmosphere is salty. Steel is best to use in a stable contained surroundings such as inside a building where the temperature and humidity are controlled. Steel hinges can be used on listed fire rated or labeled door openings.
Stainless Steel – This material is also durable and has great strength, but does not corrode like steel. This is best to use on highly corrosive areas. A 316 grade stainless steel or clear coat over 304L is recommended. Stainless steel can also be polished to a satin or bright finish. Stainless steel hinges can also be used on listed fire rated or labeled door openings.
Brass – Like stainless steel, brass is also non-corrosive and rust resistant. And although brass has less strength compared to steel and stainless steel, it is very decorative. It is often used in applications where appearance is taken into consideration over strength as it can be polished and plated in various finishes. But due to its low melting point, brass may not be used on listed fire rated door openings.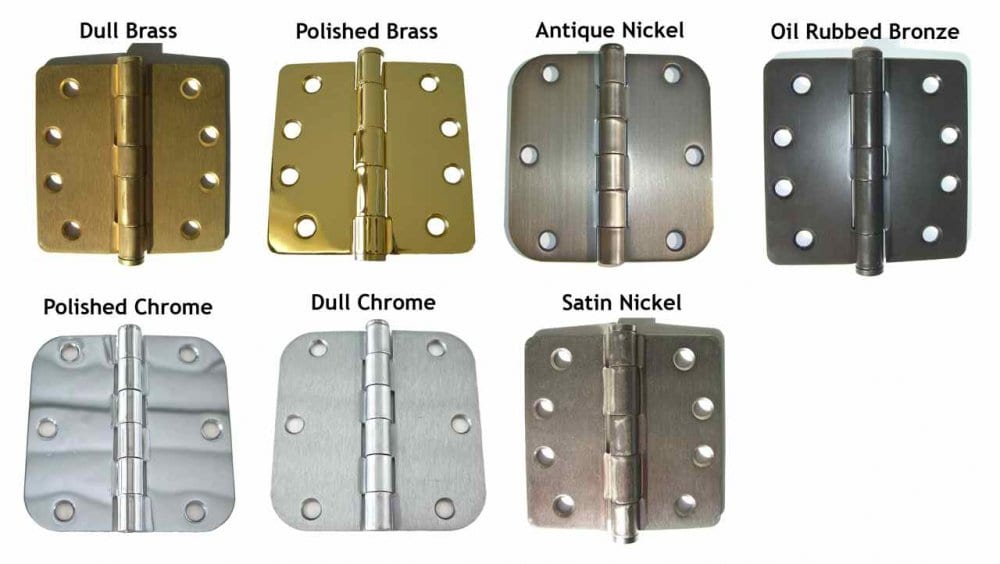 Let Priority Doors help you with all of your door needs.
Your satisfaction is our #1 Priority!